EDIT MAIN
---
PHS PRINCIPAL
WELCOME MESSAGE: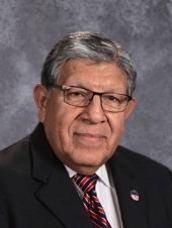 Thank you for visiting our website. Presidio High School takes tremendous pride in being a place where academic excellence and life opportunities abound. Our dedicated staff ensures that innovative and research based instructional practices are utilized each and every day and sensitivity for each student is present. At Presidio High School, our students are provided every opportunity to become well rounded persons.
By life opportunities, I specifically mean the successful dual credit program that provides college courses for our students at no cost to them. Our collaborative effort with The University of Texas at the Permian Basin has resulted in many PHS graduates entering college as sophomores or juniors. The Career and Technology Education (CTE) program in conjunction with TSTC in Sweetwater also provides opportunities for students to graduate with Master Skills Awards in a wide offerrring of career oriented areas.
PHS also offers excellent band and mariachi departments, competitive athletic programs, and a highly successful art department, solar car club where students design and build their own solar car which competes nationally. We also offer outstanding rocketry and robotics programs. Additionally, a wide variety of clubs and organizations are offered, including National Honor Society, Student Council and Rotary Interact Club.
At Presidio High School, we strive to provide our students with the skills to be successful in college or the work force. The objective is to address the image of the isolated border region community by producing world class leaders.
---

Santos L. Lujan, Jr.
Principal

Glenn Omar
PHS Assistant Principal

Rogelio Zubia
PHS Counselor

John Ferguson
PHS Counselor

Manny Fausett
Student Liaison



PHS Administration
directory available here

---

PHS Office Staff
directory available here

#1. Continue to meet state standards of academic excellence by meeting and/or exceeding the four accountability indexes required by TEA
#2. Focus all efforts on ELL, SPED and other students struggling to perform in writing in both the English I and English II EOCs by initiating specific writing strategies developed by the English department.
#3. Implement multiple strategies to target student growth in academic and non-academic vocabulary.
---
PHS, 701 HWY 170 E, Presidio, Tx. 79845, (432) 229-3365