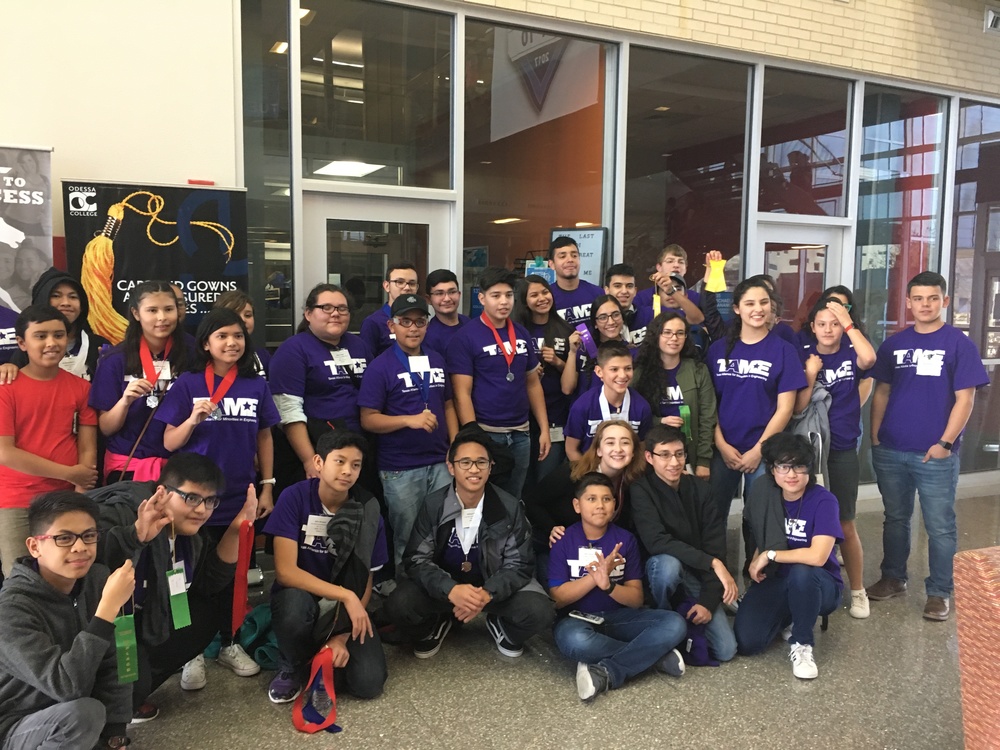 2018 Divisional TAME Competition Results
Perla Natividad
Wednesday, February 07, 2018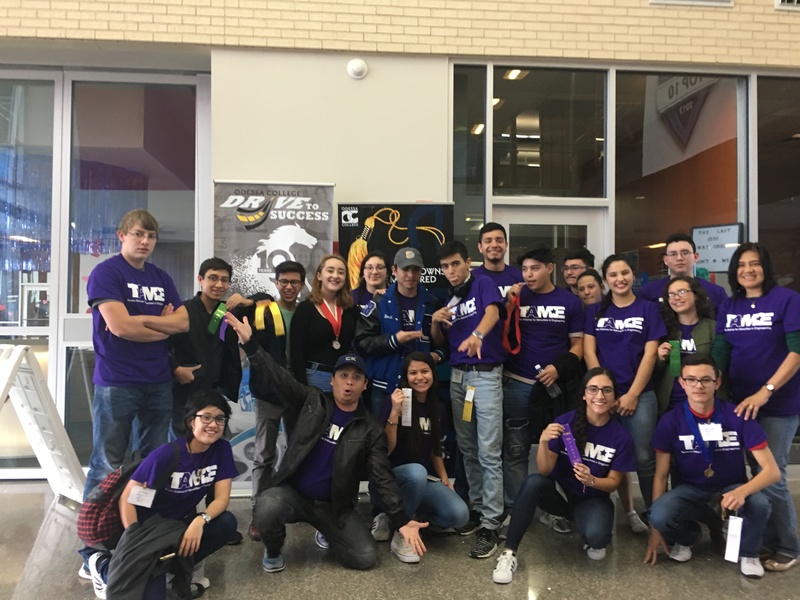 The Divisional TAME (Texas Alliance for Minorities in Engineering) Competition took place last Saturday February 03, 2018 at Saulsbury Campus Center in Odessa College - Odessa, TX. During a STEM Competition, students participate in both Math & Science tests and then team up to solve real-world engineering problems in a timed engineering design challenge.
This year's Engineering Challenge was created by Raytheon - Space and Airborne Systems engineers. The students had to create a design to hold and protect the EO system that could hold a lens parallel to the ground and had to be 3 inches above the base of the design. The machine would have to fit a
10" x 10" box. This machine had to be able to survive an 8 ft. drop and land on a specific area. The closer the landing to the specified target, the more points the team would get. Also, if the team did not use all the available materials, they would get extra points. Every team was given 1 ticket to test their design.
Attached you will find the results of the Divisional TAME Competition. Thank you to all Middle School & High School Math, Science, & Engineering teachers for preparing our students for this event. We appreciate your hard work and dedication to make sure that our students would be successful in their endeavors. A special thanks to our TAME trip sponsors,
Mr. Arnold Garzon and Mr. Melchor Rivano. Above all, thank you to our PISD Board members & Administrators for your commitment and support of the TAME program.
Sincerely,
Patricia Dimapilis / Jaspher Valeriano
PISD Science Teachers /
PHS / LRFMS TAME Event Coordinators
2018 LRFMS Divisional TAME Results
(Texas Alliance for Minorities in Engineering) Competition
Middle School Math & Science Tests Winners
6th Grade Science
· Domingo Rios – 1st Place
· Valerie Armendariz – 4th Place
· Anton Morales – 6th Place
6th Grade Math
· Anton Morales – 3rd Place
· Domingo Rios – 4th Place
· Herman Reyes – 5th Place
· Valerie Armendariz – 6th Place
7th Grade Science
Artemisa Montoya – 2nd Place
Maria Lujan - 5th Place
7th Grade Math
· Syra Omar – 2nd Place
· Kenia Hernandez – 5th Place
8th Grade Science
John Arcayan – 1st Place
Octavio Padron – 2nd Place
William Garzon – 3rd Place
Francis Creer - 4th Place
Alfonso Rene Ramos -6th Place
8th Grade Math
John Arcayan- 2nd Place
Alfonso Rene Ramos – 3rd Place
Octavio Padron 4th Place
MS 2018 TAME Engineering Design Challenge Results
2nd Place – John Arcayan & his team
2018 Divisional TAME
(Texas Alliance for Minorities in Engineering) Competition
Math & Science Tests Winners
Kaztenny Madrid – 9th Grade – 4th Place Math
Aaron Lujan - 10th Grade – 1st Place Math
Baldemar Solis – 10th Grade – 2nd Place Math
Karime Baeza – 10th Grade – 6th Place Math
Alejandrina Elms – 11th Grade – 2nd Place Math , 6th Place Science
Leonardo Uribe – 11th Grade = 4th Place Math, 6th Place Science
Ramon Aguirre – 11th Grade - 5th Place Math, 5th Place Science
Cole Galiette – 11th Grade – 3rd Place Math, 4th Place Science
David Rivero – 12th Grade – 4th Place Math, 4th Place Science
Samuel Aranda – 12th Grade – 3rd Place Math, 5th Place Science
Ivye Dolino – 12th Grade – 2nd Place Math, 6th Place Science
Nahama Lujan – 12th Grade – 6th Place Math
2018 TAME Engineering Design Challenge Results
3rd Place – Aaron Lujan , Adaly Ramirez – 10th Grade
2018 PISD TAME Event Coordinators :
2018 Divisional TAME Trip Sponsors :
PHS – Ms. P. Dimapilis & LRFMS – Ms. J. Valeriano
PHS – Mr. M. Rivano & LRFMS – Mr. A, Garzon